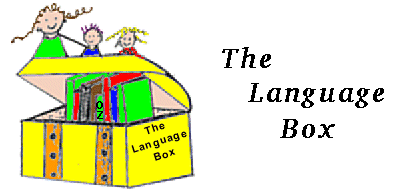 A Variety of Workshop Experiences
A Workshop for Teachers, Specialists, Parents and Volunteers
The Language Box Program is offered as a workshop to a variety of people working with children:
for teachers to be used in the classroom
for Special Education teachers to be used in more focused settings
for parents to be used at home
for volunteers assisting teachers at school
Core Principles and Concepts
Language is the fundamental skill in all school subjects. A precise understanding of vocabulary forms the building blocks of intelligence.
In the Parents and Volunteer Workshop, professional training is provided on how to enhance children's educational experience by reading from children's literature in a particular way.
In the Teacher's Workshop participants are trained both in the unique methods of vocabulary development as a special program, and in the conceptual understanding of the role of mastery of vocabulary in all their subjects.
The teachers acquire a fresh perspective on their role as teachers, and how to make their teaching meaningful and effective for all their students regardless of their ability.
Workshop Presenters
The Language Box Program was created by Dr. Geraldine Schwartz in partnership with Dr. Desmond Berghofer. Together, they have presented this workshop to parents, teacher, librarians, speech therapists and others entrusted with the development of learning in children.
Dr. Geraldine Schwartz is a psychologist, teacher, parent and grandparent. More than 30 years in these roles has led her to an understanding about the delicate and subtle ways that intelligence, language and school success are intertwined. Dr. Schwartz is the creator of the Children's Literature Language Box and is Principal of her own private learning place, the Vancouver Learning Centre.
Dr. Desmond Berghofer is a writer, teacher and futurist with more than 30 years experience in education, government service and entrepreneurial work. He is President of Creative Learning International, a Vancouver-based learning corporation focusing on the creative management of change. Dr. Berghofer is partnering Dr. Schwartz in the Language Box Program by teaching through original stories and presentations on what the future holds for children in the 21st century.
Enquiries and Information about Workshops
To discuss the presentation of Language Box workshops or to make any other enquiries about the Program, please contact Geraldine Schwartz. You can also see excerpts from the Training Manual on this site.
---
Suite 209 - 1628 West 1st Avenue, Vancouver, BC, Canada V6J 1G1
Phone: (604) 738-2277 Facsimile: (604) 734-9723